ACTING COACH FACULTY AT ACT-ATAINMENT ACTING SCHOOL
CONDUCTING ONE MONTH FULL-TIME CAMERA ACTING COURSE.
ACT-TATAINMENT FACULTY : http://www.actatainment.com/kurushdeboo/
ACTING COACH KURUSH DEBOO ACT-ATAINMENT YOUTUBE CHANNEL LINK: https://www.youtube.com/my_videos?o=U
An experienced campaigner, Kurush Deboo is fondly remembered for his role in Munnabhai MBBS where he played the character of Dr Rustom Pavri. This helped him gain immense popularity. Kurush is also known for playing meaty roles in films like Kabhi Haa Kabhi Na, Page 3, Taxi No 9211, Apne, Jhankar Beats, Kasoor and more. He would be responsible for successfully helping students apply their learning and put it to the best of use.
FIRST BATCH MARCH-2017 CONVOCATION EVENT: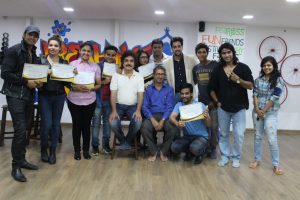 ACT-ATAINMENT INTERVIEW LINK:  http://www.actatainment.com/kurush-deboo/
Up Close & Personal With Kurush Deboo
"Shah Rukh Khan and I became buddies while shooting for Kundan Shah's Kabhi Haa Kabhi Naa. I remember using Shah Rukh's costumes for my portfolio shoot in 1992″
An experienced campaigner, Kurush Deboo is fondly remembered for essaying the character of Dr Rustom Pavri in Munnabhai MBBS. Though he started his career on a high note by playing Shah Rukh Khan's best friend in Kabhi Haa Kabhi Naa, it was his role in Munnabhai MBBS which shot him out of obscurity and brought him much desired fame and popularity. Since, then he's acted in several movies and has also featured across many television commercials. He is currently donning the hat of an acting coach at Act-Atainment.  In a candid chat with team Act-Atainment, Kurush speaks about his equation with Shah Rukh Khan, his experience of working with superstars like Salman Khan and Sanjay Dutt, his role at Act-Atainment, upcoming movies, casting couch and more. Read On…
Q) Why do you think everyone wants to become a Superstar, but not an actor or character actor?
A) There is no harm in dreaming about being a Superstar. My first dream as a child was to become a steam engine driver. I would never discourage anyone if he or she has the talent, looks, is hard working, self-confident, has a positive attitude and is persistent under all circumstances. It's a competitive world and one cannot become a Superstar overnight. Take the example of Naseeruddin Shah, Nana Patekar, late Om Puri, Irrfan Khan, K K Menon, Nawazuddin Siddiqui, Manoj Bajpai. They are not just character actors, but have even essayed a hero and villain in author-backed roles. They have survived a long career run. To become a Superstar, one needs to become an actor first.
Q) Many newcomers want to enter this profession to gain fame, popularity and make money. Strangely, they don't know even a bit about the field. What's your advice to such people?
A) Instead of building castles in their head, they should look to master their skill. The best teacher in life is experience. One should give their dream a shot and see where they stand. It's important to have a financial back up while trying one's luck as an actor. But, sometimes we have to make great sacrifices and if that's the case, I would still say go ahead and do it. One should begin acting, dancing, singing, playing music, learn marital arts, stand-up comedy at very young age. More so, one should never trade education for an acting career. A graduate degree is must
Q) Supposedly, training schools are perceived upon as a money making business. What are your thoughts on the same?
A) Gone are the days when institutes managed on meager budgets. In today's day and age, expenses are huge. Hence, acting schools charge in lakhs. Having said that, the core objective of an acting institute should be to groom acting talent, nurture self-confidence of students and guide them on how to market themselves. A school should not make false promises to students about giving them a break after passing out. They should show them the reality and educate them on how to face challenges and tackle failure.
Q) As an actor, what are the difficulties which one tends to face at start?
A) Actors work hard while training at acting institutes, but don't carry on with the same intensity after passing out. Lazy actors stop doing their voice training, yoga and other important exercises while they hunt for work. Overconfidence, inflated ego, arrogance, non-cooperative attitude, late night parties, alcohol/smoking and lack of sleep affects their looks and leads to failure.
Q) Tell us about your hardships and struggling days?
A) Every actor has a story to share. Things changed in my life after the success of Munnabhai MBBS. I would not like to disclose about my struggle, but I cherish those days.
Q) Do you feel casting couch exists? If yes, how do you feel one should tackle it?
A) This industry has given me name, fame and money. So, I would not comment on this topic. One should look to maintain their self-respect and dignity and work on their own terms.
Q)You've acted with several renowned actors Like Shah Rukh Khan, Sanjay Dutt, Arshad Varsi, Salman Khan and many more in your career. What did you learn from each one of them?
A) All of them are down to earth. They are different from how they are perceived upon by the media and fans. They are very genuine, friendly, helpful, encouraging and excellent with improvisation. They guide their co-actors well. Also, they are effortlessly natural in their performance and have a have a great memory which helps them remember long lines. These actors hardly need two rehearsals to master scene.
Q) What's your role at Act-Atainment? What do you intend to teach the students?
A) I am an acting coach at Act-Atainment. My subjects are Hindustani diction and monologues, improvisation, character study, scene study, method acting components, acting career roadmap, and first day of shoot strategy.
Q) After serving the industry for over 2 decades, do you feel you've got your due credit as an actor or are you still to receive it?
A) We as actors are always hungry. We are never satisfied. Though my work has been acknowledged and I have been nominated a few times, I haven't received any commercial benefits from those nominations. I haven't benefited either  by playing Shah Rukh Khan's Best Friend in Kundan Shah's, Kabhi Haan Kabhi Naa. Though, I have been a part of 50 films, 20 daily soaps, 100 television commercials, I feel Munnabhai MBBS  gave my career a great push. As of now, I am seeking for good author-backed roles. Money is secondary.
Q) You started your journey on a high note by playing a meaty role in Kabhi Haa Kabhi Naa with Shah Rukh Khan. But, after that you weren't seen with him. Are you in touch with him?
A) Shah Rukh (Khan) bhai has worked with a lot of actors in his career. Is it possible for him to keep in touch with all actors? I don't think so. While shooting for Kabhi Haan Kabhi Naa, we became buddies and used to have a gala time. I would visit Shah Rukh Khan and Deepak Tijori's house regularly. I remember using Shah Rukh Khan's costumes for my portfolio shoot in 1992. The last time I met Shah Rukh Khan was during the music launch of Shirin Farhad Ki Nikal Padi. He gave me a hug and asked me about my family.
Q)Tell us about your upcoming movies?
A) Master Bhushan, Tukka Fitt, Tomchi, 2 Little Indians, Vitamin She, Ek De Ek, Daud Pakad.
Q) How does it feel to be a part of Act-Atainment?
A) The founder of Act-Atainment, Mr. Dev Advani believes in seeking true talent and help them carve a niche in the film industry. His intention is not to make money or exploit rich students, but to give them a proper platform. After completing the acting course, I am sure, Dev will stand by the students to help them grow and even guide them on how to market themselves. I am very fortunate to be a part of the faculty panel comprising of seasoned actors like Kenneth Desai, Arif Zakaria, Irrfan Bhai, Rayo Noble and others.
---
Interviewed By Team Act-Atainment
Topics To Be Covered: Hindustani Diction and Monologue, Improvisation, Scene Study, Character Study, Basic Applied Techniques of Method Acting components, Acting Career Roadmap, Strategy and First Day Shoot Strategy, Voice and Speech Training, English Diction, Acting for the Camera (Practical Training), Art of Storytelling (Expression, Reading and Theatre Exercises), Preparing for an Audition, Personality Development.
---
Month Of Commencement: April 2017 |Duration: 1 month (Mon-Fri) | No Of Sessions: 20 | Timings: 11 am- 3 pm |Fee: INR 29,990/-  
---
Free Offerings: 1 portfolio | 2 free lectures on action | 1 free session on dubbing 
---
Synopsis- Otherwise a part time program, at Act-Atainment we term this course as a 1 month full time acting program considering the rigorous training students go through over the time span of 1 month. Our prime focus  is to instill belief amongst our students which is very crucial for success. We try and understand a student's psyche and identify factors which deter their success.  Over a span of a month, students perform challenging exercises under the supervision of a trainer, on the basis of which the supervisor shares a feedback with them. This helps them overcome their shortcomings and tread towards the path of success.
---
Optional Offering: Horse Riding | Installment Facility Offered: Yes
---
Certification: Students would be awarded a certificate on successful completion of this course.
CONTACT DETAILS